Gearing: sprockets and chainring size is a personal thing. After all, we can't all push a
58 like Tony Martin
. And, over time and changes in strength and fitness, what might have been just right is no longer ideal for Goldilocks.
I swapped my 2 speed Brompton for a 6 speed earlier this year and the BWR (Brompton Wide Ratio) hub fitted with the standard 16T and 13T just wasn't right. I have never used the lowest ratio on the 3-speed hub (but I might if I ever decided to ride up Alpe d'Huez on the Brompton); in the middle and on the 16T I pull wheelies accelerating away from traffic lights and the jump from the 13T in the middle to the 16T on the high ratio felt too wide.
What to do? The new Brompton chainset makes it a simple task to swap chainrings, however replacing the worn chain gave me the cheaper opportunity to replace the rear sprockets with something different. So I decided to try out a 15T with a 12T.
The 1, 2 and 6 speed Brompton hubs have the same spline fitting as Shimano. Brompton sell a 12T as a replacement for the single speed but I couldn't find a 15 tooth from them (other than for a 3 speed hub fitting). But you can buy individual sprockets to replace worn parts to cassettes, so I purchased a Shimano 9-speed XT 15T sprocket.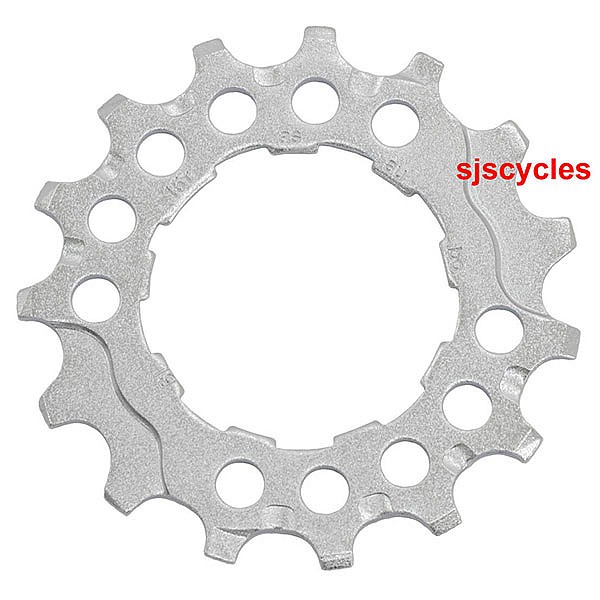 Fitting both sprockets on the hub was straightforward and the gear change with a new (same length) KMC X8 chain is perfect.
The proof is in the
porridge
pudding. Today's commute with the new gearing was good; Pulling away from traffic lights on the 15T-middle was fine and didn't need the immediate change up as previous. The ratio between the 12T-middle and the 15T-high feels much closer and, I could be wrong, the Silly Commuter Race pace felt quicker.
Let's see how they wear.